The One with All the Wedding Dresses
A snoring Joey is keeping Chandler awake. Ross asks Monica to pick up Emily's wedding dress for him. Ross talks to Rachel about the wedding and she says she's fine with it because of Joshua. Monica tries on Emily's wedding dress and keeps it on. Chandler sends Joey to a sleep clinic. Phoebe gets her own wedding dress. Rachel predicts that Ross and Emily will not last because of their hasty engagement; however, Ross announces that they have decided to marry in a month in London. Rachel proposes to Joshua and he turns her down. Chandler meets a woman at the sleep clinic. Phoebe and Monica find life in wedding attire has its charm. Joey gets a mouth guard to stop him from snoring. Rachel confides to Monica and Phoebe that she's not okay with Ross's marriage after breaking up with Joshua. Chandler's new girlfriend screams in her sleep and keeps Joey awake.
Gledate Friends Sezona 4 Epizoda 20 online sa prevodom na Play Online.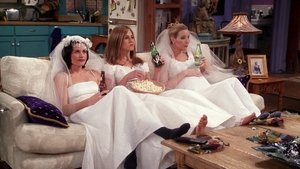 Apr. 16, 1998