Revenge of the Slitheen (2)
Under attack from the monstrous Slitheen child, Maria (Yasmine Paige), Luke (Tommy Knight) and Clyde (David Anthony) escape, thanks to some deodorant and Sarah Jane's (Elisabeth Sladen) sonic lipstick. Back in her attic, Sarah Jane's super – computer Mr Smith (Alexander Armstrong) reveals the aliens' evil plan to drain Earth of its energy. But as a power blackout spreads across the globe, Mr Smith goes out of action. The gang must rely on their wits alone to stop the Slitheen from extinguishing the sun for ever.
Gledate The Sarah Jane Adventures Sezona 1 Epizoda 2 online sa prevodom na Play Online.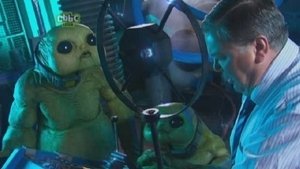 Sep. 24, 2007